eWIX: mini-PACS Process
---
NCD Corporation (NCD) provides a simple, no risk solution to manage and archive medical information. This solution is a web-based mini-PACS and Patient Information Document Management service called eWIX (electronic Worldwide Information Exchange).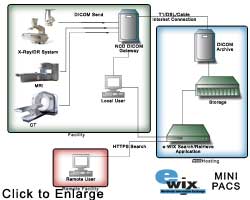 The steps in the eWIX: mini-PACS process include:
DICOM data is captured at your medical facility using the NCD DICOM gateway server. The gateway server handles all DICOM 3.0 complaint modalities making integration simple. Radiology equipment that is not currently configured to produce DICOM output can be upgraded using our digital upgrade solutions. The gateway can accept multiple incoming connections to reduce any bottleneck in the process.
2.Send data to mini-PACS service
Once the DICOM gateway has accepted a DICOM communication from your modality, it also forwards the data to the NCD hosting facility. To reduce network strain the DICOM data is compressed using file compression before transmission. All communications with the primary hosting facility are encrypted using the highest standards. To ensure that all data is sent correctly an integrity verification is made after each transfer.
At the NCD hosting facility the DICOM data is processed as soon as it is received. The DICOM data is compressed using FDA approved JPEG-lossless compression. Information about the DICOM is extracted from the DICOM worklist (header) information. During this processing step the DICOM can optionally be forwarded onto another facility for review or diagnostics. After the processing is complete the DICOM is available for immediate viewing.
Any DICOM image that is sent to the eWIX:mini-PACS service is available for viewing within minutes. The image can be viewed from the facility it originated from or from a remote location such as another hospital, physicians office, clinic or residence. If the image is viewed from the facility where it originated, it can take advantage of the accelerated retrieval feature of NCD DICOM gateway server. The gateway server can be configured to hold DICOM data for a selected period of time to provide near instant access to local DICOM data.
The eWIX: mini-PACS process is a complete solution to accessing and archiving your patient data. Contact us to get started today.
---
Cost Calculator
We charge a small monthly fee for storage and access. No need to purchase document management software, viewers, servers, storage, or scanners.
Scanning
Scanning pages up to 8.5" x 14" is no charge.
X-ray film digitizing is based on quantity and turnaround.
Indexing
Indexing (identifying searchable keywords or numbers) is a small one time charge per document
- not necessarily per page
Hosting
Access is a small monthly charge per workstation starting at $20 per user
- based on the number of workstations licensed
- unlimited access, NOT PER CLICK
Storage is charged based on the actual storage used per gigabyte
Contact Us for specific eWIX pricing
---