eWIX: mini-PACS Benefits
---
Sharing Data
The eWIX: mini-PACS service is a complete solution for sharing of medical data produced by healthcare organizations. All data is centrally located and accessible wherever it is needed. Is your patient being scanned in Tuscon and your radiologist is in Flagstaff? No problem! The scan can be read as if the patient were in the next room.
Expand Your Facility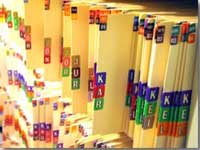 Avoiding the countless racks of files in a complex filing system allows you to utilize your space more effectively. You can add more patient care areas to increase your patient capacity.
HIPAA Compliance
The eWIX: mini-PACS service ensures your facility maintains compliance with HIPAA regulations. Multiple layers of security include VPN using point to point tunneling protocol, Internet key exchange, triple data encryption using encryption keys, spoofing detection, site blocking and port blocking. Data is stored on multiple mirrored servers, on RAID and on spanned disks simultaneously. NCD also maintains a co-location site approximately 150 miles from our main site. All data is backed up in daily, weekly and monthly intervals to ensure data integrity. Backup media is securely transported and stored offsite. All access to medical data is tightly restricted and logged.
Low Cost
With the mini-PACS service there is no need to invest in expensive hardware and software to store medical imaging data. By outsourcing, all hardware and software costs of using a digital medical system can be reduced to an affordable level.
Ease of Use
The NCD web-based mini-PACS service is very simple to use with no advanced training needed. All functions are performed through a simple web interface making the time to get up to speed minutes - instead of days of training.
---
Cost Calculator
We charge a small monthly fee for storage and access. No need to purchase document management software, viewers, servers, storage, or scanners.
Scanning
Scanning pages up to 8.5" x 14" is no charge.
X-ray film digitizing is based on quantity and turnaround.
Indexing
Indexing (identifying searchable keywords or numbers) is a small one time charge per document
- not necessarily per page
Hosting
Access is a small monthly charge per workstation starting at $20 per user
- based on the number of workstations licensed
- unlimited access, NOT PER CLICK
Storage is charged based on the actual storage used per gigabyte
Contact Us for specific eWIX pricing
---