eWIX: mini-PACS Applications
---
Radiology -- All medical images that are currently being created can be automatically forwarded onto eWIX: mini-PACS for access. Any medical images that are currently on X-ray film can be sent to NCD for storage and scan-on-demand service.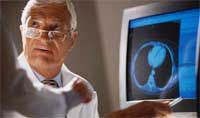 Patient Records -- All patient records can be converted to a digital format and stored in the eWIX: mini-PACS service. All medical information can be centrally located in one convenient location.
Accounting/Billing -- Purchasing agreements and contracts can be available in a central location. With this information in electronic form, multiple users can quickly and simultaneously access these documents.
Disaster Recoverty -- eWIX can store files and provide immediate access should your pacs not be available. Data also can be replicated in a format that will allow for a full system restoration should you lose your data.
Please contact us for recommendations on your specific scenario.
---
Cost Calculator
We charge a small monthly fee for storage and access. No need to purchase document management software, viewers, servers, storage, or scanners.
Scanning
Scanning pages up to 8.5" x 14" is no charge.
X-ray film digitizing is based on quantity and turnaround.
Indexing
Indexing (identifying searchable keywords or numbers) is a small one time charge per document
- not necessarily per page
Hosting
Access is a small monthly charge per workstation starting at $20 per user
- based on the number of workstations licensed
- unlimited access, NOT PER CLICK
Storage is charged based on the actual storage used per gigabyte
Contact Us for specific eWIX pricing
---